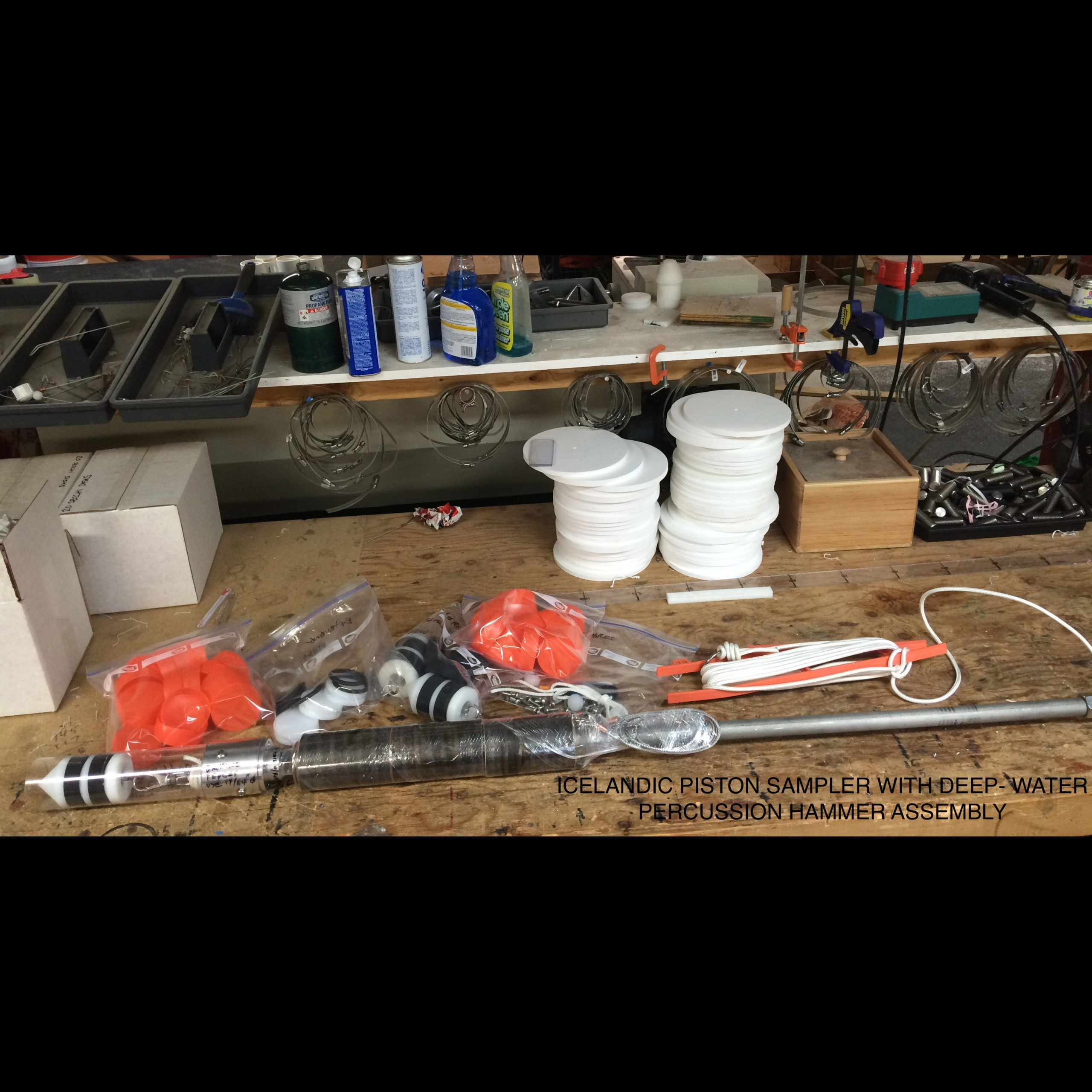 Icelandic Piston Corer - Complete And Ready To Deploy
Includes:
1) Icelandic Core Head (68 mmod) with bolt-on barrel attachment method
2) "T" Handle
3) Spares Kit (with barrel drilling templet, machine screws, drills, taps, and Hex Driver)
4) Padded Tool Kit
5) 1-Clear Polycarbonate Corer Barrel (68mmid x 71mmod) x 120 cm long
6) Core Extruding Plug and 2-Poly End Caps
7) 20 m Piston Rope (7mm diameter low-stretch)
Paleoecological analysis

Lightweight piston sampler for soft lake deposits

Long (2.0m long/drive), undisturbed cores of sediment-water interface from shallow lakes

Ideal sampler for gyttja, clay, and fine sand sediments

Piston Sampling is a proven method to minimize core shortening and/or compression

Icelandic Piston Corer can be deployed in shallow lakes (20 m) with a string of Aluminum Holobar Extension Rods or in deep lakes with Cable Deployed Percussion Hammer Assembly
Icelandic Piston Corer - Spare Parts & Accessories
About Our Icelandic Piston Corer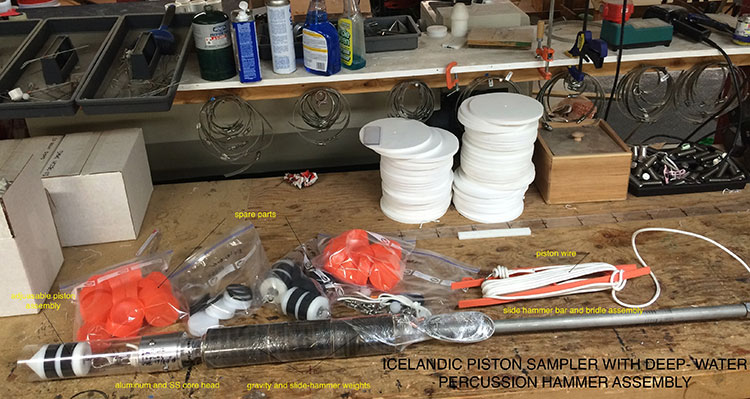 Collects best quality core samples
Piston sampler can be deployed on Aluminum Holobar Extension Rods (to max depth of 25 meters) or in deep lake with Cable Deployed Percussion Hammer Assembly
68 mmid x 71 mmod aluminum and stainless steel construction
Bolt-on barrel attachment method
Drives clear polycarbonate core barrel x 2 5/8" (68mm) x 2 3/4" (71mm)
10 m piston wire with attachment hardware
Three (3) adjustable piston assemblies with "O" rings
NOTES:
General Procedure
Rinse polycarbonate core tube and piston assembly with water
Loosen piston assembly and insert in core tube with cable attached
Slide core tube on to core head and tighten hose clamps on "no-hub coupler"
Use drive/extrusion rod to push piston assembly to the lower end of core tube and tighten piston assembly (tight enough to be difficult to move by hand) in core tube with the key on end of extrusion rod
Retract drive/extrusion rod and secure in place with retainer pin
Determine the depth of water and couple the necessary extension rods together
Lower the corer to just above the sediment-water interface with slack in the wire
Tie the piston wire to the coring platform
Drivers should place their hands at various levels along the drive rod so that the push can be steady for a full meter without pause
(Note: a pause during a drive may prevent furthur recovery since internal core friction may cause plug formation and core compaction)
If driving becomes difficult, it may be nessasry to use pipe wrenches or cross beams to provide mechanical advantages
Pull the corer from the sediments while maintaining tension on the piston cable (if cable slips, part of the core may be lost)
Cap the bottom of the core tube with polyethylene caps (or bottom piston when extruding from the "bottom-up") until the extrusion process begins
Citations:
Fisher, M.M., M. Brenner, K.E. Reddy., 1992. A simple, inexpensive piston corer for collecting undisturbed sediment/water interface profiles., Journal of Paleolimnology, 7:157-161. Wright, H.E., 1991. Coring tips., Journal of Paleolimnology, 6:37-49. Blomqvist, S., 1991. Quantitative sampling of soft bottom sediments: problems and solutions., Mar. Ecol. Prog. Ser., 72: 295-304. Wright, H.E., 1980. Cores of soft lake sediments., Boreas, 9:107-114. Wright, H.E., 1967. A square drive piston sampler for lake sediments., J. Sedim. Petrol., 37:975-976. Cushing, E.J. and W.E. Wright., 1965. Hand operated piston corers for lake sediments., Ecology, 46:3:380-384.