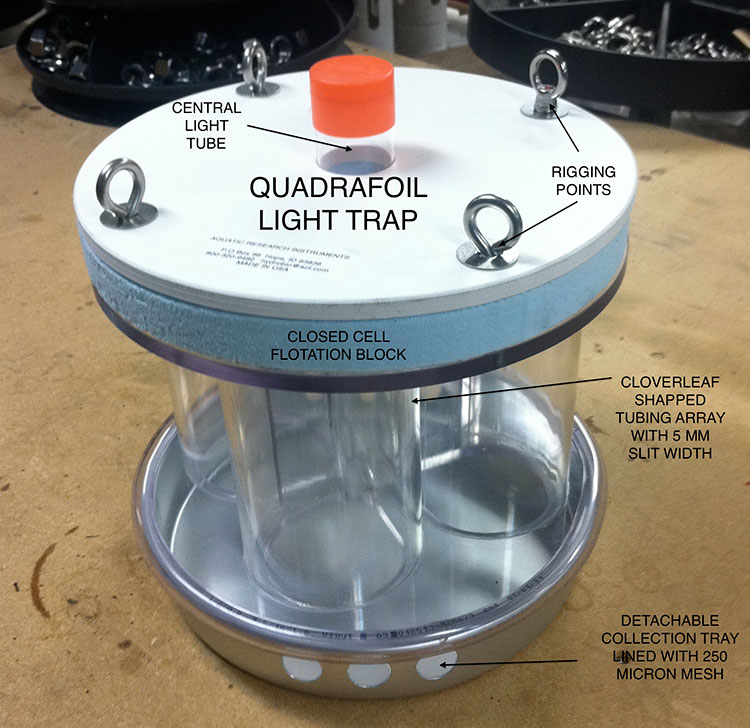 Complete and Ready to Deploy LIGHT TRAP Kit Includes:
1) Quadrafoil Light Trap x clear PETG construction, foam flotation
2) Detachable draining assembly x 250 micron (Nitex Nylon) with spare attachment tubing
3) Chemical light stick
4) Bucket-type carry case
Passive sampling of a broad range of planktonic organisms

Compact, rugged design is suitable for lotic, lentic and hatchery environments

Modified design includes an alternative light source, collection assembly and floatation device
Light Traps - Spare Parts & Accessories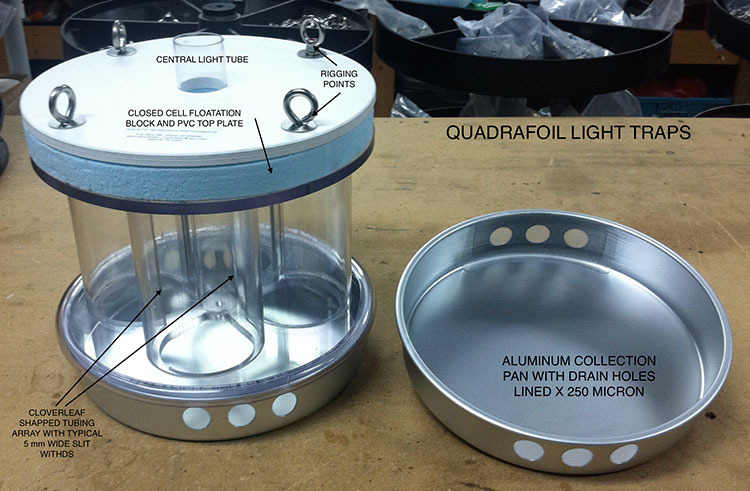 Cloverleaf Shaped Array, 30 cm (diameter) x cm x 25 cm (Height) with four entry slits x 5 (+/- 1.5) mm wide
Robust design, clear polycarbonate construction w/fixed slit width x 5 (+/- 1.5) mm wide (custom split widths available)
Collection Basin/Seive x 250 micron (or specify mesh size)
Top plate closed cell flotation block
Central light tube 20 mm diameter x 25 cm long with cap
Rigging hardware, one chemical light stick
Commonly Used Light Sources (Light Source Not Included):
Chemical Light Sticks
Squid Fishing Jigs
Waterproof flashlights
LED pool lights
Citations
Secor, D.H., J. Hansbarger, 1992. Modification of the quatrefoil light trap for use in hatchery ponds. Prog. Fish. Cult, 54:3, pp 202-205. Floyd, K.B., W.H. Courtenay, and R. D. Hoyt. 1984. A new larval fish trap: the quatrefoil trap. Prog. Fish Cult., 46:216-219. Ulrich, G.W., 1986. Construction of a compact submersible aquatic light trap. Pan-Pac. Entomol. 52:2, pp 144-149. Faber, D.J., 1990. A light trap to sample littoral and limnetic regions of lakes. Verh. Int. Ver. Theor. Limnol. 21:2.