Pressurized Pore-Water Squeezer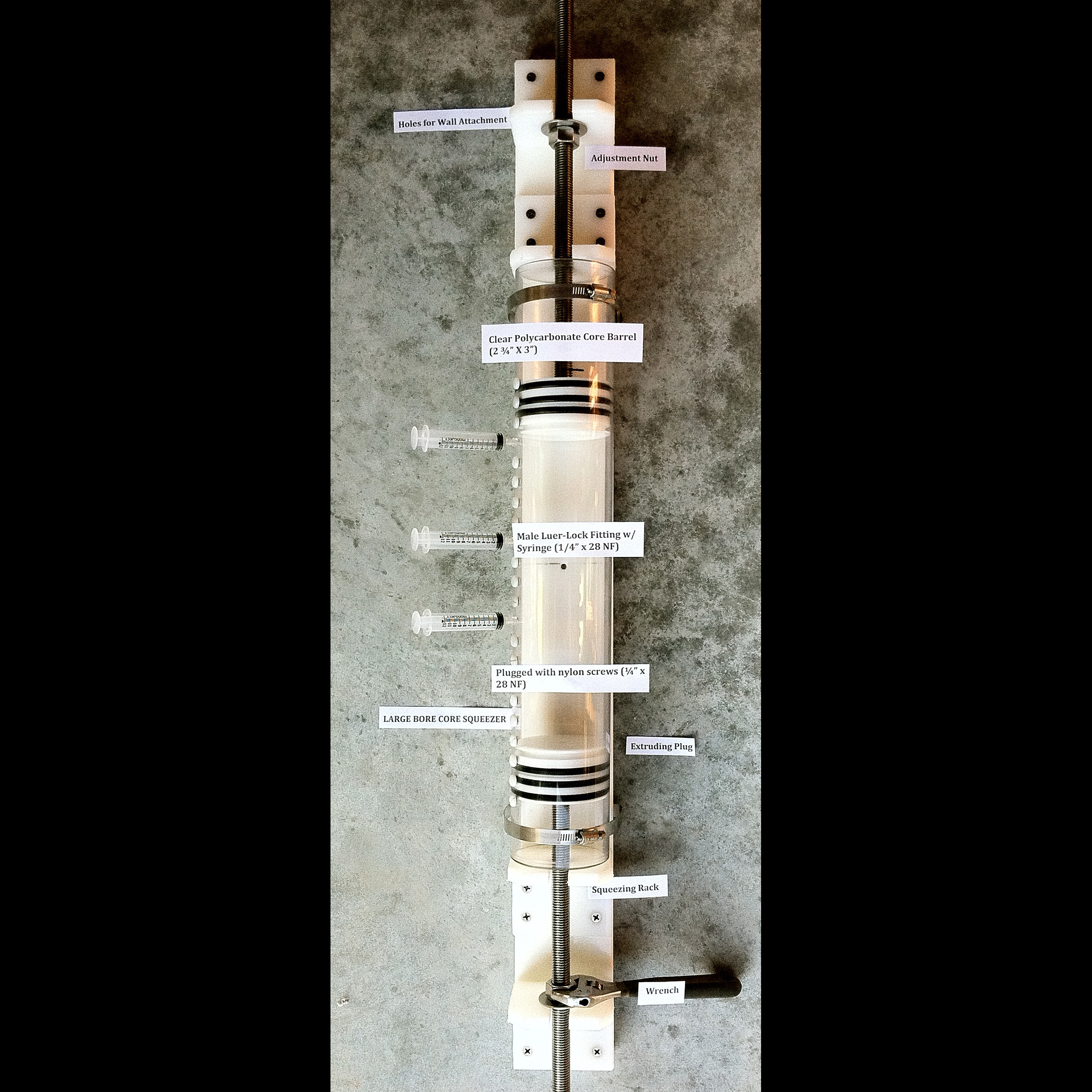 Pressurized Pore-Water Squeezer
Polycarbonate core tube

Adjustable aluminum squeezing frame

Designed to hold core tube while pistons slowly squeeze sediments and expell pore water samples into syringes

Pistons are slowly pushed into core tube by turning plastic wing nuts on threaded rods

Two (2) adjustable polyethylene piston assemblies
About Our Pressurized Pore-Water Squeezer
50 cm length, 9.5 cm I.D., 4mm wall, with threaded sampling ports at 2.0 cm intervals to accept nylon screws or Luer-Lock syringe fittings (1/4"-28 NPT)
Adjustable aluminum squeezing frame
Designed to hold core tube while pistons slowly squeeze sediments and expell pore water samples into syringes
Two (2) course threaded rods (10 cm diam.) fit into support flanges and thread into coupling nuts on piston assembilies
Pistons are slowly pushed into core tube by turning plastic wing nuts on threaded rods
Two (2) adjustable polyethylene piston assemblies
Double integral "O" rings; piston assembiles are fitted into core tubes upon sample retrieval for transport of intact cores and subsequent core squeezing
In-Vitro Gas Flux Reactor Unit Includes:
Large Bore Sediment sampler unit
Customized reactor caps
Fabricated to meet the specific requirements of the investigations
Call for details on various configurations
NOTES:

Designed to mechanically squeeze samples for pore (interstitial) water extraction. Quality core samples can be recovered with Large Bore Core Head, to maximum water depths of about 12 meters, with Aluminum holobar extension rods. Adjustable Piston Assembly consists of a "sandwiched", double "O"-ring assembly which and can be easily compressed/decompressed.
This design allows one to plug the bottom of the core tube upon sample recovery and displace any air/gas on top of the core before the core barrel is placed into the squeezing rack. Nylon hardware plugs are replaced with Luer-Lock fittings and syringes prior to squeezing.
Threaded push rods are attached to piston assemblies with coupling nuts, while large wing nuts are turned to push pistons together. As core sample is squeezed, pore water follows a path of least resistance into the syringes.
Citations:
Jakoke, R.A., 1988. A simple, reliable, and inexpensive pore-water sampler., Limnol. Oceanogr. 13: 483-487. Herslem, R.M., 1976. An in situ sampler for close interval pore water studies., Limnol. Oceanogr. 21: 912-914.